Die Health Check Methode wurde von Spotify entwickelt und heißt dort Squad Health Check.
Hierbei wird das Team in regelmäßigen Abständen zu bestimmten Aspekte befragt und bewertet diese.
Über die Zeit lässt so eine Entwicklung visualisieren: Wird das Team kontinuierlich besser oder lässt die Performance irgendwo nach?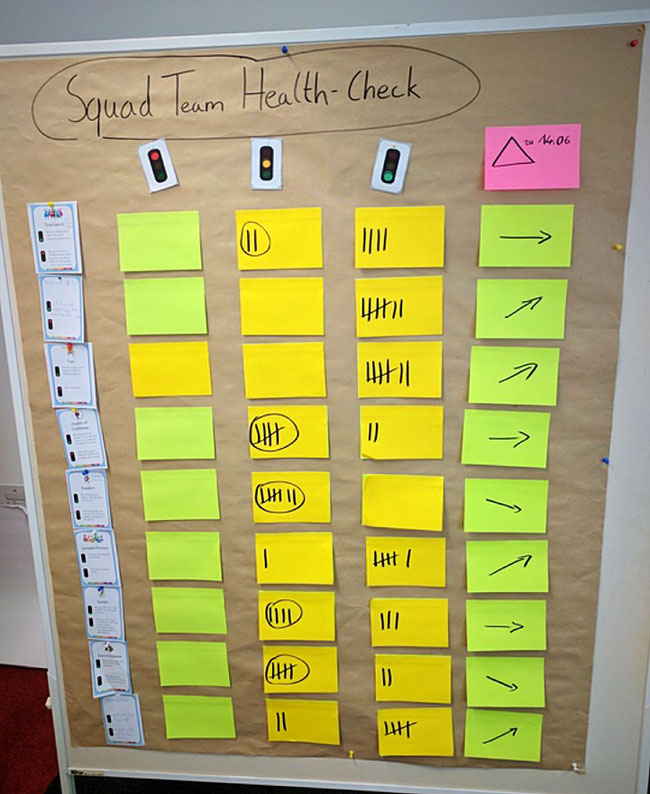 In einer Health Check Sitzung bewertet das Team z.B. folgende Aspekte der Zusammenarbeit:
Delivering Value 
Easy to release 
Fun 
Health of code base 
Learning  
Mission 
Pawns or Players 
Speed 
Suitable process 
Support 
Teamwork 
Diese Liste kann um jeden Aspekt erweitert werden den das Team für sinnvoll hält.

Jedes Teammitglied hat eine rote, eine gelbe und eine grüne Karte um pro Aspekt eine Bewertung abzugeben. Das aktuell Ergebnis kann dann mit einem vorherigen verglichen werden, um den Trend zu bewerten. Sieht das Team bei einem Aspekt einen negativen Trend tauscht es über Gegenmaßnahmen aus und beschließt diese.
---